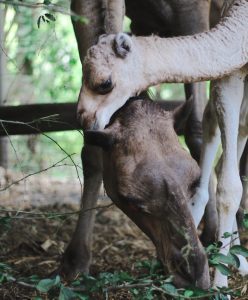 We welcomed a new edition to the park on the 17th of November!
After some miscalculations and a few scratched heads we were starting to wonder if Josephine the camel was even pregnant!
The original due date was Mid September early October however these days came and went and still no baby camel was born! 
On a quiet lunchtime on the 17th of November, Keepers noticed Josephine going into labour and sounded the alarm "THE BABY IS COMING!". As keepers kept a close eye on the delivery to ensure a safe birth, baby IVY entered the world!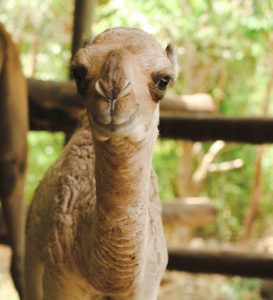 Ivy was named after a very special camel close to Director Julies heart, from her time working at Longleat Safari Park. She is lighter in colour compared to her mother, obviously takes after her dad.  
She has become quite the curious little thing, even starting to investigate the leaves and branches from the    browse her mother gets fed!  
As she grows and gets stronger, she will join the viewing area so everyone can see just how adorable she is! 
Welcome to the Predator Kingdom
Baby IVY !