This big cat adventure has become a very well known and much-appreciated activity for tourists and Mauritians alike. Described as "… This has been the highlight of our trip…", and "A once in a lifetime experience, unbelievable!", "fantastic to see such beautiful creatures so close!", "…never thought I'd be able to touch a lion…" to name but a few.
Our walks are carried out daily during the early mornings and late afternoons as these are the cooler parts of the day. The walk takes place on the banks of Rivière du Rempart, which forms part of the 1,000 acre estate.
Upon your arrival, the Safari Adventures team will welcome you with a safety briefing, you will then be introduced to the cats and their handlers and it is from this moment that your unique adventure begins.
A very popular combination is to take a lion for a walk followed by an interaction with the cheetah, or one of our smaller cats, caracal and serval.

** Please note that no photography, video equipment, or mobile phones are permitted during this activity. This is for your safety!**
---
The management of Safari Adventures' decision is final!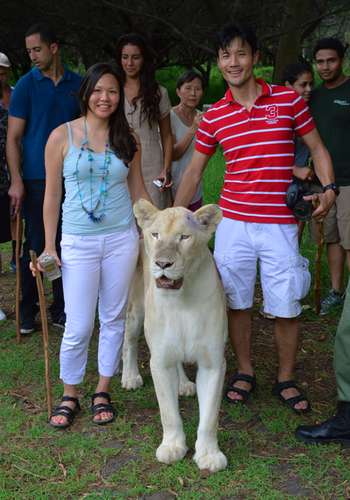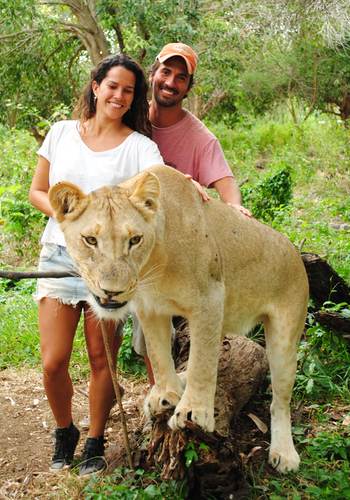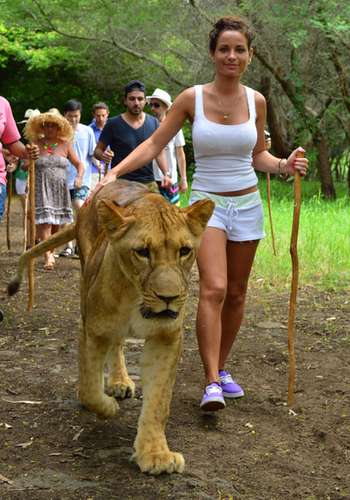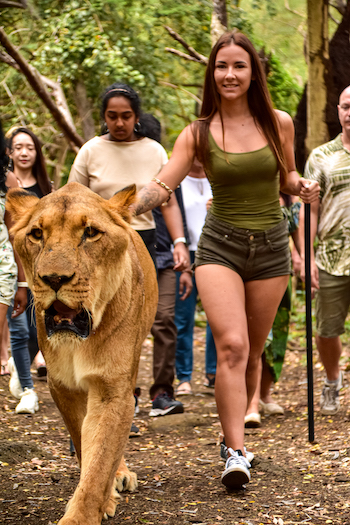 The highlight of the day was walking with lions! Not looking through a fence, not a 10 minute interaction with a photo, not a 10 week old cub ... actually in the jungle walking with real lions, loose and free to to what they wanted... Wow!
What to Expect
The walk is conducted over 45 minutes to 1 hour in time within the park. Accompanied by rangers and big cat handlers. The groups for the walks are up to 12 people. It is a pretty gentle walk but we do recommend that you wear comfortable shoes. Bring along some mosquito repellent and sun cream!
This popular activity is followed by refreshments and bookings in advance are strongly recommended.
Please note that no cameras, phones or video cameras are permitted during the activity, this decision has been made by management for your safety.
A WeTransfer (photos) of your experience are available for purchase after your activity and is purely optional.
Walking Times
Daily At
10:00, 10:30, 14:00, 15:30.
Please make sure you arrive at the park at least 30 minutes before your walking departure time.
No activities are conducted on Sundays, only viewing.
Our big cat adventures do however come with a few regulations:
Age Restrictions
The big cat adventures are not based solely on actual age but on height of the participant. The minimum height requirement is 1.5 metres and above with a minimum age of 15 years.
An ID/passport will be required as proof of age, in the case of minors.
Anyone shorter than this will not be permitted to participate in the walk or interaction.
The management of Safari Adventures' decision is final.
Health Requirements
Please confirm that all people that have booked to either walk or interact with the big cats should not be suffering from any disabilities, either mentally or physical. That they have no major hearing or visual impairments.
If any of the above is found incorrect on the day of your activity NO refund will be considered.
These rules are for your safety.
Please check our tickets and packages for more info.